Gutter Cleaning Greenwich
Greenwich Gutter Cleaning Service
Gutter systems complement the roofing system by guiding rainwater away from the house's exterior.
The failure to properly maintain the gutters and roof can lead to rotting window frames, musty odours inside the home, and unheated rooms.
Inspecting your gutters on a regular basis will keep water out of your home and prevent costly repairs.
✅ Protect Your Property From Water Damage
✅ Professional Gutter Cleaners
✅ Free Gutter And Roofing Survey
✅ We Check Your Gutters For Signs Of Damage
✅ Competitive Prices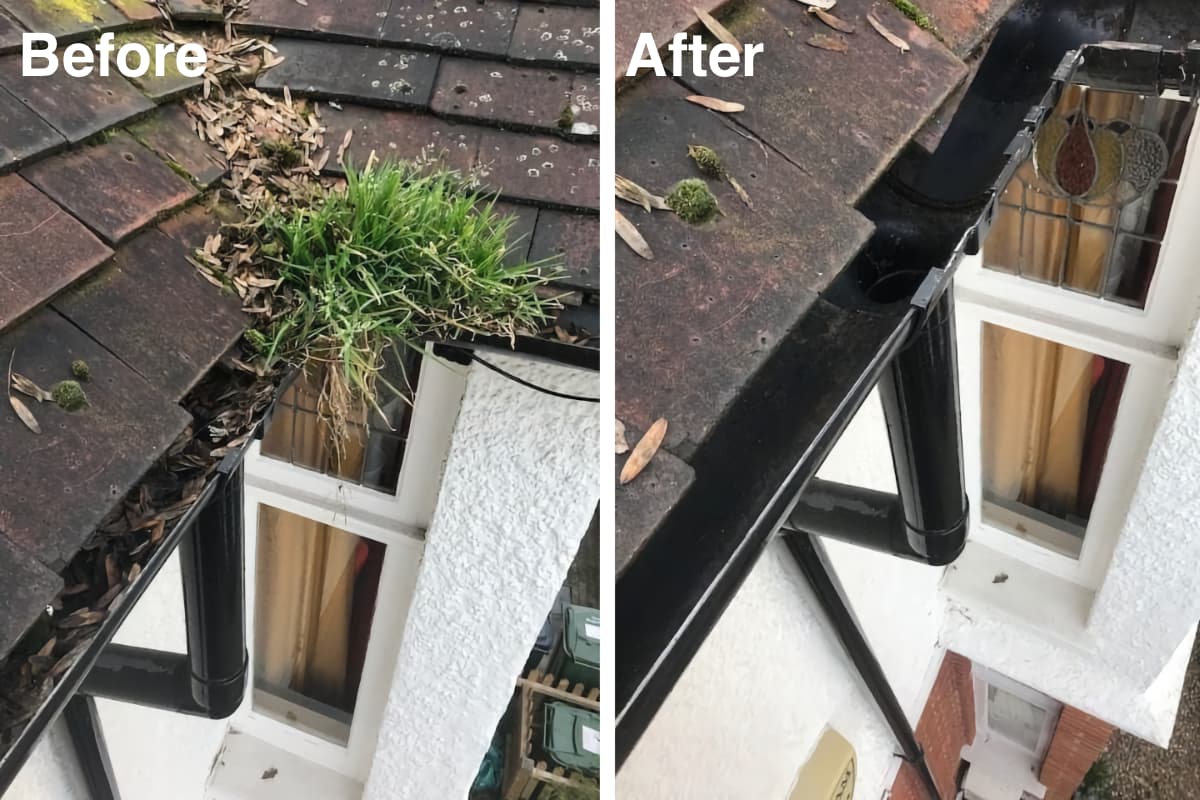 Dangers Of Doing Gutter Cleaning On Your Own
Cleaning the gutters is not always a difficult task, but it is always dangerous work due to the drainage system's location. To get to it, anyone must climb a tall ladder, which puts them at risk of losing their balance and falling, especially if there is no one else around to help hold the ladder steady.
It is possible for you to cause damage to the exterior of your home.
If you do choose to try clearing the gutter on your own, you run the risk of damaging the gutters, breaking a window, or breaking roof tiles.
Why Sam's Gutters & Roofs?
Gutter clearing,

Repairs and replacements,

Soffits and fascia installations or replacements,

Roof repairs,

Chimney repairs, pointing 

Solar panel cleaning.
With each gutter cleaning in Greenwich, we reinforce our claim to be the best experts in gutter cleaning and gutter-related repairs in the business.
By hiring qualified roofers who can not only clear gutters but can also repair issues with any roof. Every house is different and an expert is often the best person to assess what is truly needed. As a result, we leave happy customers who recommend our services.
✅ Book a Free inspection
✅ Full report with photos of our findings.
✅ Quotation With No Obligation
✅ Residential gutter and roofing work
✅ Free Quote Provided In Minutes
✅ Fully Guaranteed In Greenwich
Considering replacing or repairing your gutters?
The only way to know for certain whether your gutter needs replacement or repair is to have someone go up and take a look, which is difficult for most people to do. Experience, a fear of heights, training, and the appropriate equipment are essential.
A free roof inspection is also included with every job because all of our technicians are certified roofers. Any issues, such as broken or missing tiles, missing flashing, or potentially leaky pointing, will be reported to you by our technicians, and we'll prepare a free, no-obligation quote for you.
If you think you may need a gutter repair go here.
What makes us unique?
✅ Integrity
✅ Accountability
✅ Commitment to our customers
✅ Highly skilled team
✅ Quality materials used
✅ Fully Insured
We have company Public Liability Insurance cover and all our technicians are fully Health and Safety Trained with many years of experience in the work that we carry out.
– All our repairs are guaranteed
– Free ROOF INSPECTION
– 10-years guarantee on full replacements (on all fascia, soffit and gutters replaced)
– Free roof and guttering inspection with every booked job
– Free site visit and quotation
A little about the area.
Greenwich is a borough in London on the banks of the River Thames.
Often considered to be one of the most desirable locations in which to make a home in South London due to its rich cultural heritage and deep historical roots. Living in Greenwich guarantees that there will never be a dull moment because the neighbourhood is home to Greenwich Meantime, the Royal Palaces, a thriving marketplace, and a multitude of fashionable hangouts.