Gutter Cleaners Service in Mitcham
A house is not complete without gutters because, in conjunction with the roofing system, they direct water away from the walls and roof of the house.
Inadequate guttering and roofing can result in rotted window frames, musty odours inside the house, and rooms that are difficult, if not impossible, to heat.
Inspections of your gutters at regular intervals can protect the health of your home and save you money.
✅ Protect Your Property From Water Damage
✅ Professional Gutter Clearing in Mitcham
✅ Free Gutter And Roofing Survey
✅ We Check Your Gutters For Signs Of Damage
✅ Competitive Prices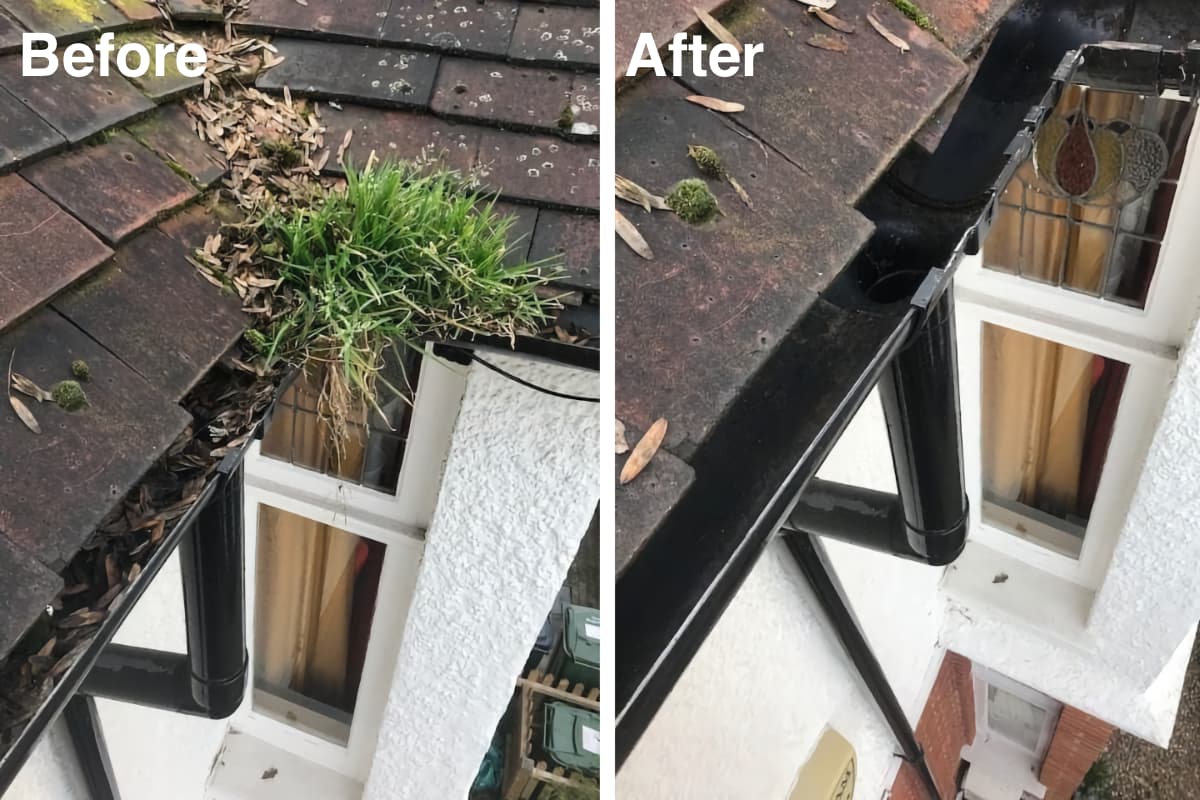 Why Have Your Gutters Cleaned By Someone?
When cleaning gutters, it's necessary to get up on ladders and sometimes even climb up onto the roof itself, which can be a risky undertaking.
Because falling is so common, it is imperative that someone be present to hold ladders while others are working.
If you are not careful, emptying the gutters yourself can result in damage to the gutter system or even shattered windows.
The knowledgeable staff at Sam's Gutters & Roofs will see to it that everything is carried out in a risk-free manner, putting neither you nor your property in jeopardy in the process.
Why Sam's Gutters & Roofs?
Gutter clearing, repairs and replacements, soffits and fascia installations or replacements, roof repairs, chimney repairs, pointing and solar panel cleaning.
With each new gutter clean in Mitcham, we reinforce our claim to be the best in gutter cleaning and roof-related repairs in the business.
We ensure this by hiring the best roofers who can not only clear gutters but can also spot and repair issues with your roof. Each house is different and an expert is often the best person to assess what is needed.
As a result, Sam's have happy customers who recommend our services.
✅ Book a Free inspection
✅ Full report with photos of our findings.
✅ Quotation With No Obligation
✅ Residential and commercial gutter and roofing work
✅ Free Quote Provided In Minutes
✅ Fully Guaranteed In Mitcham and Surrounding Areas
Think You Need Your Gutter Repaired Or A Replacement?
The only way to know for sure if your gutter needs repairs or replacement is to have someone go up and look, which isn't easy for most people. It's important to have experience, a head for heights, training, and the right tools.
As all our technicians are fully trained roofers, we can also offer a free roof inspection with every job. If anything is found, such as missing or broken tiles, missing flashing, or pointing that could leak, our technicians will report this to you and we will prepare a free, no obligations quote for you.
If you think you may need a roof repair go here for roof repairs.
What makes us unique?
✅ Integrity
✅ Accountability
✅ Commitment to our customers
✅ Highly skilled team
✅ Quality materials used
✅ Fully Insured
Our company have Public Liability Insurance cover and all our technicians are fully Health and Safety Trained with many years of experience in the work that we carry out.
– All our repairs are guaranteed
– Free ROOF INSPECTION
– 10-years guarantee on full replacements (on all fascia, soffit and gutters replaced)
– Free roof and guttering inspection with every booked job
– Free site visit and quote
A little about the area.
East of the London Borough of Merton is Mitcham. Thornton Heath, Streatham, Croydon, Sutton, and Tooting are close by to Mitcham. The town is bordered to the southwest by the River Wandle. In the west is where the original village is. The majority of the boundary is taken up by Mitcham Common, while Pollards Hill is located in the area to the south of the CR4 postcode. The CR0 postcode encompasses a portion of the region that includes Mitcham Common and parts of Mitcham Junction.