Healthy homes have good roofing and gutters.
Gutters are an essential component of a house because, in conjunction with the roofing system, they direct water away from the house's walls and roof.
Poor guttering and roofing can lead to dampness, rot, and mould. This leads to rotten window frames, musty smells, and rooms that never really warm up.
Regular inspection and repair can keep your home healthy and save you money.
✅ Protect Your Property From Water Damage
✅ Professional Gutter Cleaners in Sidcup
✅ Free Gutter And Roofing Survey
✅ We Check Your Gutters For Signs Of Damage
✅ Competitive Prices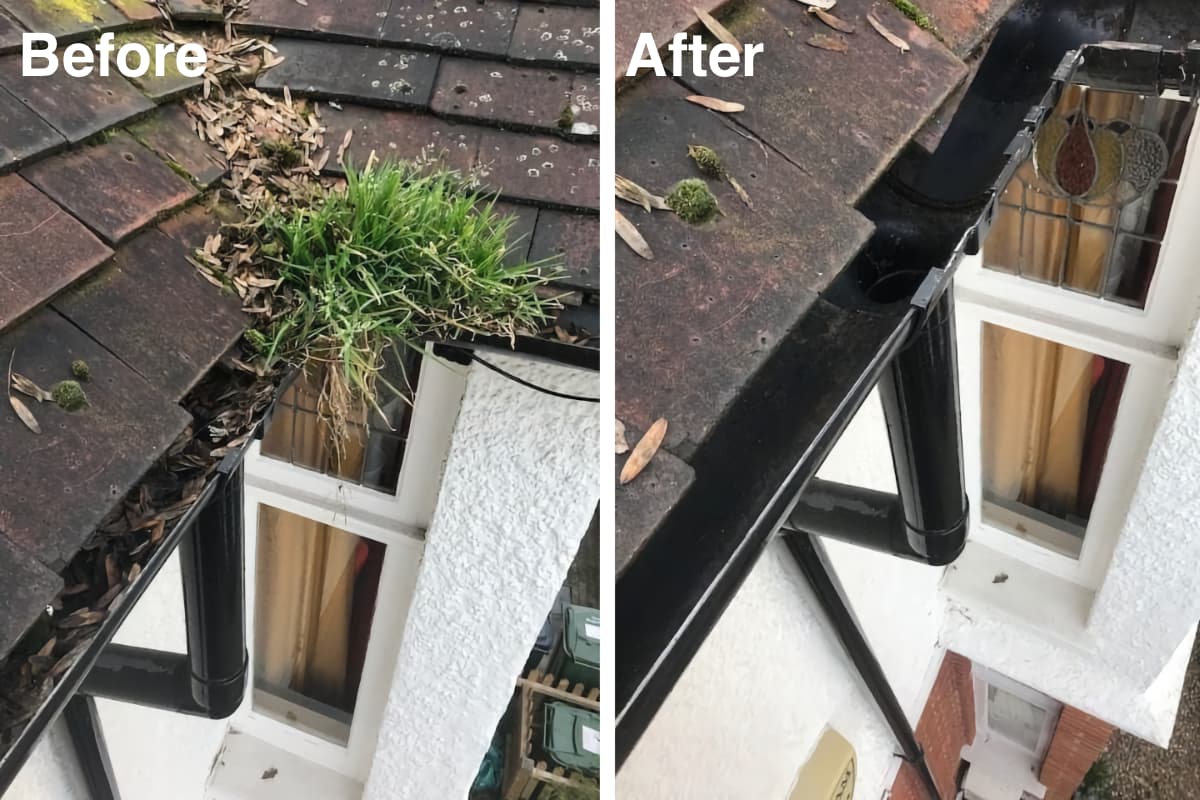 Why should you consider having your gutters cleaned?
Avoid damage and expensive repairs
Gutters that are clogged or broken are a major cause of property damage. It's not just the damp; it's also common for brickwork to get damaged, window frames to rot, and mould to grow. In Sidcup, gutter cleaning is especially important because of the weather.
You will find our prices are affordable and competitive. Our teams are experienced, efficient and trustworthy - they're ready to help now.
While they are on the roof, they will also report to you the condition of your roof - if any problems are looming can catch them early.
The Risks of Doing Gutter Cleaning on Your Own
Gutter cleaning can be easy, but due to where the drainage system is, it can be very dangerous!  To reach the gutters you will need to climb a ladder, which puts you at risk of falling.
You could also do damage the exterior of your home if you are not careful like breaking a window, break tiles on the roof or damage the gutters themselves.
✅ Book a Free inspection
✅ Full report with photos of our findings.
✅ Quotation With No Obligation
✅ Residential and commercial gutter and roofing work
✅ Free Quote Provided In Minutes
✅ Fully Guaranteed In Sidcup and Surrounding Areas
Think You Need Your Gutter Repaired Or A Replacement?
The only way to know for sure if your gutter needs repairs or replacement is to have someone go up and look, which isn't easy for most people. It's important to have experience, a head for heights, training, and the right tools.
It makes sense to check and prevent major damage because they are also simple to repair. Our technicians will accomplish this with the utmost efficiency.
At Sam's Gutters, we also offer a FREE roof inspection. So if our technicians, who are fully qualified and insured roofers find anything, they will take photos and show you their findings.
If you think you may need a roof repair go here for roof repairs.
What makes us unique?
✅ Integrity
✅ Accountability
✅ Commitment to our customers
✅ Highly skilled team
✅ Quality materials used
✅ Fully Insured
A little about the area.
The majority of Sidcup is located in the London Borough of Bexley in south-east London, England. It is located in the mediaeval county of Kent, 11.3 miles south-east of Charing Cross, and borders the London boroughs of Bromley and Greenwich.
Sidcup is a fantastic area to live for families, professionals, commuters, and those searching for a slower pace of life. It has magnificent surroundings, excellent transport links, great schools, and a variety of amenities.