Gutter Cleaning Services
Are you looking for gutter cleaning in Welling? Sam's Gutters & Roofs specialises in cleaning gutters, both for homes and businesses. Our highly skilled team can quickly and safely clear your gutters of leaves, moss, and other debris.
We offer a FREE roof inspection with every gutter cleaning to look for any damage or potential threats to your property.
✅ Protect Your Property From Water Damage
✅ Professional Gutter Cleaners in Welling
✅ Free Gutter And Roofing Survey
✅ We Check Your Gutters For Signs Of Damage
✅ Competitive Prices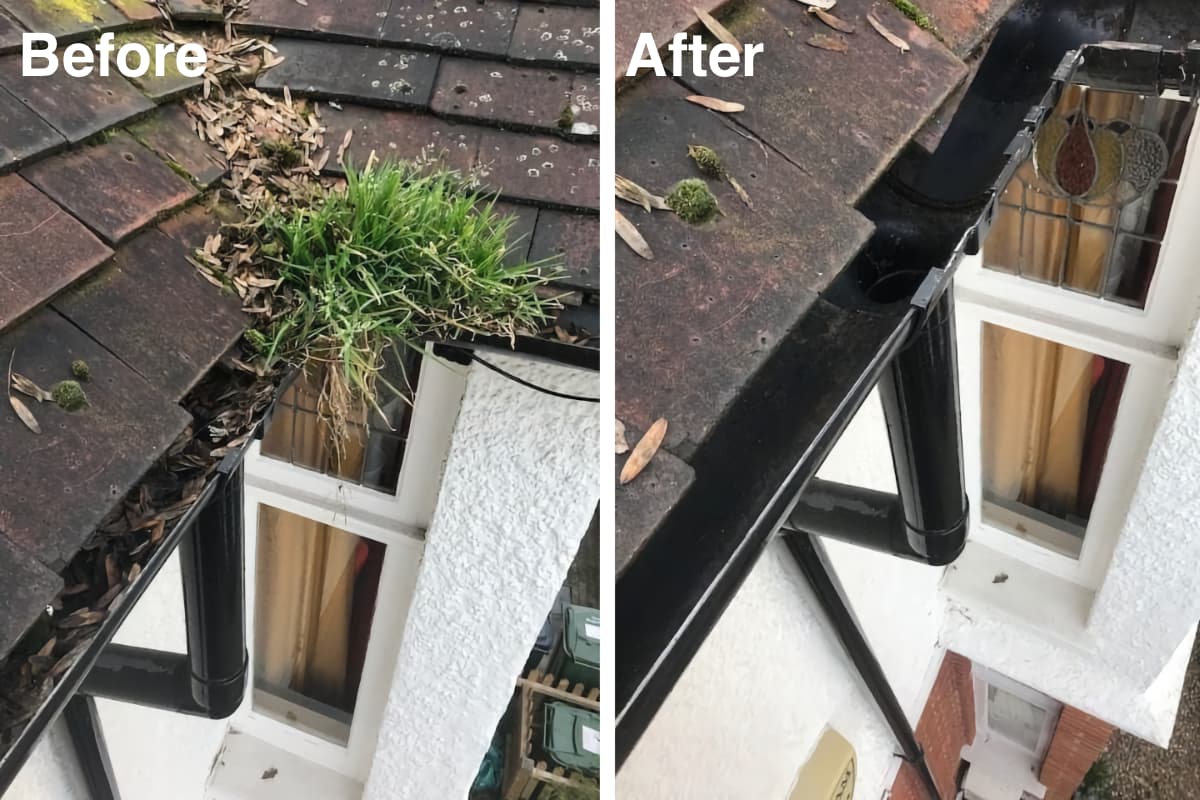 The Risks Of Doing Gutter Cleaning On Your Own
The Perils of DIY Gutter Cleaning Due to the location of the drainage system, gutter cleaning can be a simple task but also dangerous. Anyone who wants to get to it will need to climb a tall ladder, which increases the likelihood that they will trip and fall—especially if no one is present to hold the ladder for them.
You could damage your house's exterior.
If you do choose to try clearing the gutter on your own, you run the risk of damaging the gutters, breaking a window, or breaking roof tiles.
Why Sam's Gutters & Roofs?
Gutter clearing,

Repairs and replacements,

Soffits and fascia installations or replacements,

Roof repairs,

Chimney repairs, pointing 

Solar panel cleaning.
With each gutter cleaning in Welling, we reinforce our claim to be the best experts in gutter cleaning and gutter-related repairs in the business.
By hiring qualified roofers who can not only clear gutters but can also repair issues with any roof. Every house is different and an expert is often the best person to assess what is truly needed. As a result, we leave happy customers who recommend our services.
✅ Book a Free inspection
✅ Full report with photos of our findings.
✅ Quotation With No Obligation
✅ Residential and commercial gutter and roofing work
✅ Free Quote Provided In Minutes
✅ Fully Guaranteed In Welling and Surrounding Areas
Think You Need Your Gutter Repaired Or A Replacement?
Looking for gutter repairs? Residential gutter repairs and patch repairs are something we've done for more than ten years.
Repairs of the soffit and fascia
All paid repairs come with a 12-month warranty.
A year's worth of replacements are guaranteed.
We also provide a ten-year guarantee on all gutter replacements and soffit and fascia replacements on a property.
If you think you may need a roof repair go here for roof repairs.
What makes us unique?
✅ Integrity
✅ Accountability
✅ Commitment to our customers
✅ Highly skilled team
✅ Quality materials used
✅ Fully Insured
We have company Public Liability Insurance cover and all our technicians are fully Health and Safety Trained with many years of experience in the work that we carry out.
– All our repairs are guaranteed
– Free ROOF INSPECTION
– 10-years guarantee on full replacements (on all fascia, soffit and gutters replaced)
– Free roof and guttering inspection with every booked job
– Free site visit and quotation
A little about the area.
Welling is a neighbourhood located in South East London, England. It is contained within the bounds of the historic county of Kent as well as the London Borough of Bexley. It is 1 mile and a half to the west of Bexleyheath, 4 miles and a mile and a half to the south-east of Woolwich, and 10 miles and a mile and a half to the east-southeast of Charing Cross, which is considered the traditional centre of London.
Welling is a great place for families who want to be close to London and live in a leafy suburb. It has the award-winning Danson Park and some of the best schools in the area. Its busy High Street is where people gather, and The Cannon, a 36-pound Russian carronade, is the town's most famous landmark.