Roof Cleaning Services In London
Are your clay or concrete roof tiles suffering from moss growth, lichen and a general dirt build up?
Two different methods are used. High-powered water pressure cleaning or manually scraping and brushing. After completing the work, a moss inhibiting solution can be sprayed onto the tiles to stop the moss from quickly growing back.
Roof Moss Removal
Moss is removed manually with a scraper and a brush, this won't remove the lichen on the roof but the moss inhibiting solution applied afterwards will deal with lichen.
Deep Cleaning moss removal process:
Erecting necessary access equipment
Covering flower beds close by and patio etc.
Removing the moss with a scraper and brushes
Checking the roof for any damage and carrying out minor repairs or reporting if there are any larger repairs
Cleaning the site
Roof Cleaning Services by Pressure Washing
The roof tiles can be cleaned thoroughly throughout the roof cleaning process with a powered pressure washer. This will take off a very thin layer of the tiles so they will look like brand new tiles afterwards. Neighbours should be informed as spray and moss are likely to be blown onto their property.
Optional: If required, the roof can also be treated with moss inhibitor solution
With £1 million public liability insurance cover, our skilled and highly-trained team are equipped to carry out your roof cleaning to a high standard.
Pressure washed roof cleaning example:
Click on any of the images below to enlarge them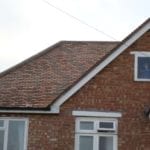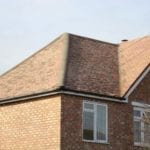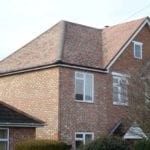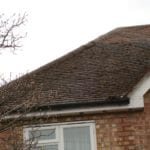 Ready to get your roof cleaning quote? Call 0800 0789 151