Professional Gutter Cleaners
Covering London & South East
Good guttering and roofing make for healthy homes
Gutters are a vital part of a home - along with the roofing system they channel water away from walls and away from the house.
Damp, rot and mould are a result of poor roofing and guttering. This leads to rotten window frames, musty smells, and rooms that never really warm up.
Regular inspection and repair are needed to keep your home healthy and prevent major expense.
✅ Protect Your Property From Water Damage
✅ Professional Gutter Cleaners in London
✅ Free Gutter And Roofing Survey
✅ We Check Your Gutters For Signs Of Damage
✅ Competitive Prices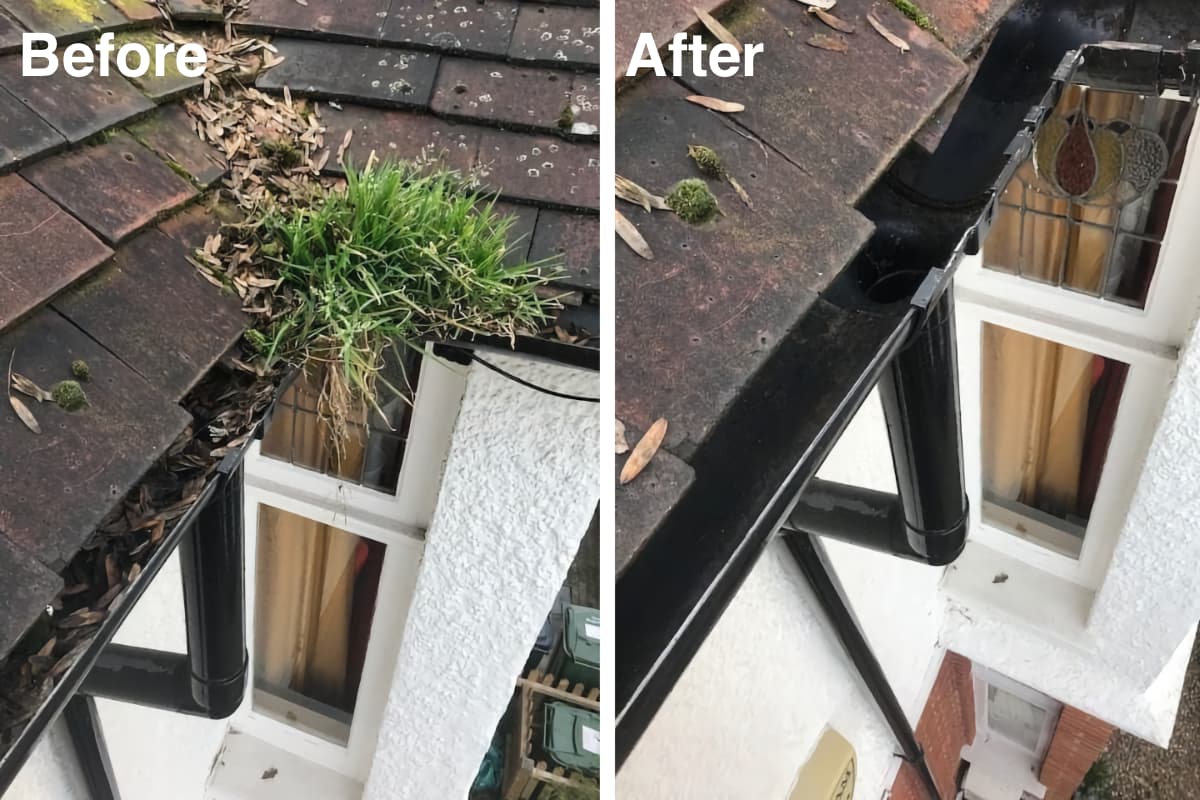 Why get your gutters cleaned?
Prevent damage and avoid costly repairs
Blocked or broken gutters are a main cause of property damage. It's not just the damp:  brickwork damage, rotten window frames and mould are common results. In our climate, gutter cleaning in London is particularly important.
You will find our prices are affordable and competitive. Our teams are experienced, efficient and trustworthy - they're ready to help now.
While they are on the roof, they will also report to you the condition of your roof - if any problems are looming can catch them early.
Damp protection
Although we can't stop it raining, we can make sure the water goes where it should: along the gutter, down the pipe, and back to nature. The job of guttering is to channel it away from the parts of your house where it can do damage.
We do gutter clearing, repairs and replacements, soffits and fascia installations or replacements, roof repairs, chimney repairs, pointing and solar panel cleaning.
Our roofers are qualified and highly experienced. While they are up a ladder scooping out the dead leaves and moss, they can also spot and repair issues with your roof. Small roof problems are easy to deal with if they are caught early. Once the water starts to find ways through, the costs mount rapidly.
✅ Book a Free inspection
✅ Full report with photos of our findings.
✅ Quotation With No Obligation
✅ Residential and commercial gutter and roofing work
✅ Free Quote Provided In Minutes
✅ Fully Guaranteed In London and Surrounding Areas
Think You Need Roof Repairs?
The only way to be sure if your roof needs some work is to have someone go up and look - not so easy for most people.  Experience, a head for heights, training, and proper equipment are vital.
But up close, things like defective roof tiles or felt, missing mortar around chimneys or ridge tiles, lifted tiles and other common problems are easy to spot.
They are also easy to repair, so it makes sense to check, and avoid major damage. Our roofers will do this with the minimum of fuss.
Click here roof repairs.
What makes us unique?
✅ Integrity
✅ Accountability
✅ Commitment to customers
✅ Highly skilled team
✅ Quality materials used
Frequently Asked Questions
What happens if I don't bother cleaning my gutters?
Your gutters can fill up with debris, causing your gutters to overflow onto the building and potentially causing damp
How do you carry out the service?
We carry out our work by hand using a ladder, we also use a telescopic pole to remove the debris from hard-to-reach places. If access is not possible by ladder, we can look at alternative ways such as a sky-vacuum or scaffolding
Are there any types of gutters that you don't clean?
We do not touch asbestos guttering
I've noticed grass growing out of my guttering. What should I do?
We would recommend having your gutters cleared from the debris inside as this can cause issues when the debris is built up
Do you leave a mess?
No, we always strive to leave the property how we found it.
What about downpipes? Do you do them as well?
Yes, we can clear downpipes, depending on how blocked they are; there can be an additional charge for this (same price as a repair cost). However, if your downpipe does run underground or into a soak away, this could mean you have an issue with your drains which unfortunately we can not rectify.
Are your staff qualified and insured?
Yes all our technicians are qualified and insured
How many times per year should I get my gutters cleaned?
We would say a minimum of every 6 months, depending on the surroundings we do have customers who need to have it done more frequently. 
What is the difference between gutter cleaning and repair? How do I know which one I need?
Sometimes this can be very hard to determine, if you are in doubt we can always stop by to give you a free no-obligation quote as to what is the best course of action. 
How safe is guttering to repair?
We will always do what we can in the safest way possible, if it is not safe to do by ladder, we do work alongside scaffolding companies who can supply quotations for any works which can not be carried out by ladder
Do you need to park in my drive?
Ideally if possible, if not if there is road parking and a permit is needed we greatly appreciate you being able to supply this. 
Do you cover my area?