Gutter Cleaners in Bromley
Gutters are an essential component of a house because, in conjunction with the roofing system, they direct water away from the house's walls and roof.
Poor guttering and roofing can lead to rot to window frames, musty smells in the home, and rooms that never really heat.
Regular gutters inspections can keep your home healthy and save you money.
✅ Protect Your Property From Water Damage
✅ Only Qualified Roofers Hired
✅ Free Gutter And Roofing Survey
✅ We Check Your Gutters For Signs Of Damage
✅ Competitive Prices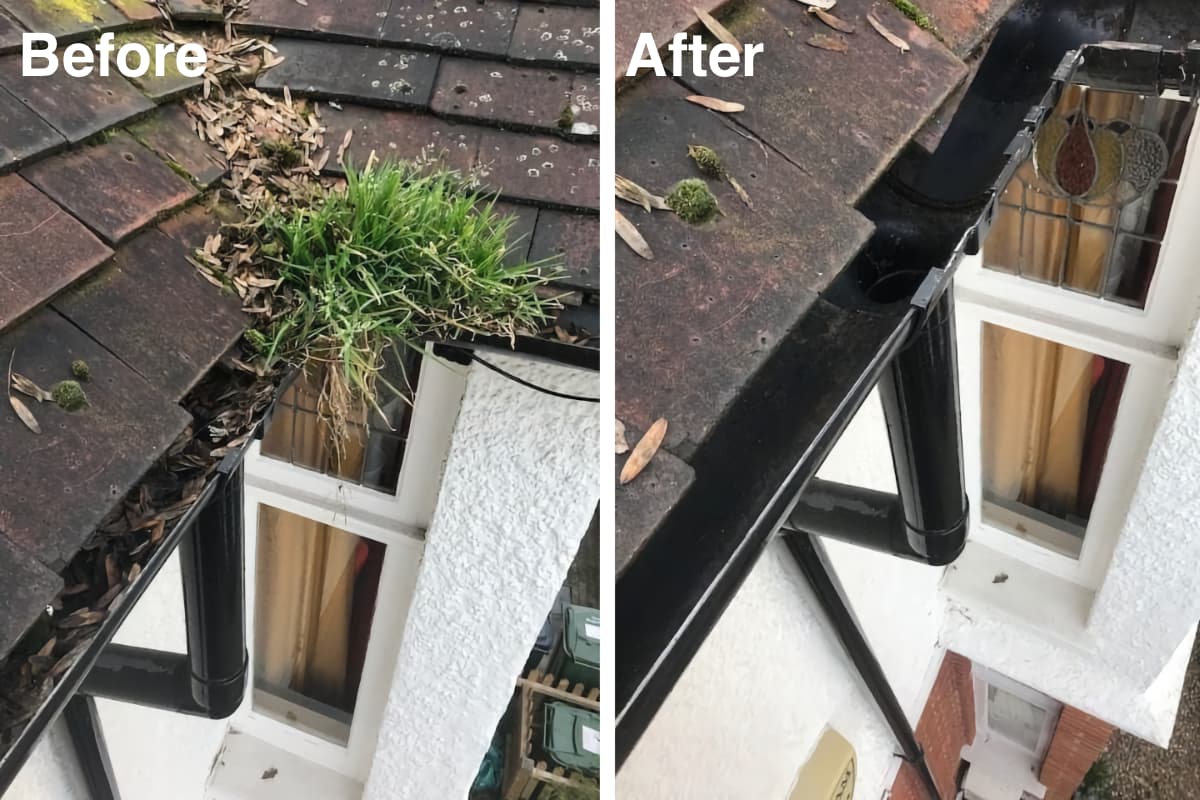 Why should you have your gutters cleaned?
Gutter clearing can be a dangerous task, with having to climb ladders and sometimes even getting on to the roof itself.
Slips and falls are common so it is important to have someone there to hold ladders.
Doing the clearing yourself can lead to damages to the gutter system or even broken windows if you are not careful.
The qualified team at Sam's Gutters will ensure everything is done safely and you and your home are not at risk.
Why chose Sam's Gutters?
Gutter cleaning, repair, and replacement, installation or replacement of soffits and fascia, roof repair, chimney repair, pointing, and cleaning of solar panels.
Every time we clean gutters in Bromley, we back up our claim that we are the best gutter cleaners and gutter repair experts in the business.
We make sure of this by hiring qualified roofers who can not only clean gutters but also find problems with any roof and fix them. Every house is different, and a professional is usually the best person to figure out what needs to be done. As a result, our customers are happy and tell their friends about us.
✅ Book a Free inspection
✅ Full report with photos of our findings.
✅ Quotation With No Obligation
✅ Residential and commercial gutter and roofing work
✅ Free Quote Provided In Minutes
✅ Fully Guaranteed In Bromley and Surrounding Areas
Think You Need Your Gutter Repaired Or A Replacement?
The only way to know for sure if your gutter needs repairs or replacement is to have someone go up and look, which isn't easy for most people. It's important to have experience, a head for heights, training, and the right tools.
As all our technicians are fully trained roofers, we can also offer a free roof inspection with every job. If anything is found, such as missing or broken tiles, missing flashing, or pointing that could leak, our technicians will report this to you and we will prepare a free, no obligations quote for you.
If you think you may need a roof repair go here for roof repairs.
What makes us unique?
✅ Integrity
✅ Accountability
✅ Commitment to our customers
✅ Highly skilled team
✅ Quality materials used
✅ Fully Insured
We have company Public Liability Insurance cover and all our technicians are fully Health and Safety Trained with many years of experience in the work that we carry out.
– All our repairs are guaranteed
– Free ROOF INSPECTION
– 10-years guarantee on full replacements (on all fascia, soffit and gutters replaced)
– Free roof and guttering inspection with every booked job
– Free site visit and quotation
A little about Bromley
Bromley is an outer borough of London, England. It is located on the southeast edge of the city. Most of the borough is in the historic county of Kent, but the parts in the west have always been in the county of Surrey. Bromley is the biggest of the London boroughs in terms of size. In 1965, the old boroughs of Beckenham and Bromley, as well as the Kent urban districts of Orpington, Penge, and parts of Chislehurst and Sidcup, were combined to make the current borough of Bromley. Mottingham, part of Sydenham, Elmstead, Penge, Anerley, Chislehurst, Beckenham, Bromley, Elmers End, Shortlands, St. Paul's Cray, Bickley, Petts Wood, Southborough, St. Mary Cray, Kevingtown, Orpington, Hayes, West Wickham, Locksbottom, Keston, Farnborough, Chelsfield, Green Street Green, Pratt's Bottom, Leaves Green