Gutter Cleaning Worcester Park
Gutter Cleaning Service Worcester Park
A house is not complete without gutters because, in conjunction with the roofing system, they guide water away from the walls and roof of the house.
Inadequate guttering and roofing can result in rotted window frames, musty odours inside the house, and rooms that are difficult, if not impossible, to heat.
Inspections of your gutters at regular intervals can protect the health of your property and save you money.
✅ Protect Your Property From Water Damage
✅ Professional Gutter Cleaners in Worcester Park
✅ Free Gutter And Roofing Survey
✅ We Check Your Gutters For Signs Of Damage
✅ Competitive Prices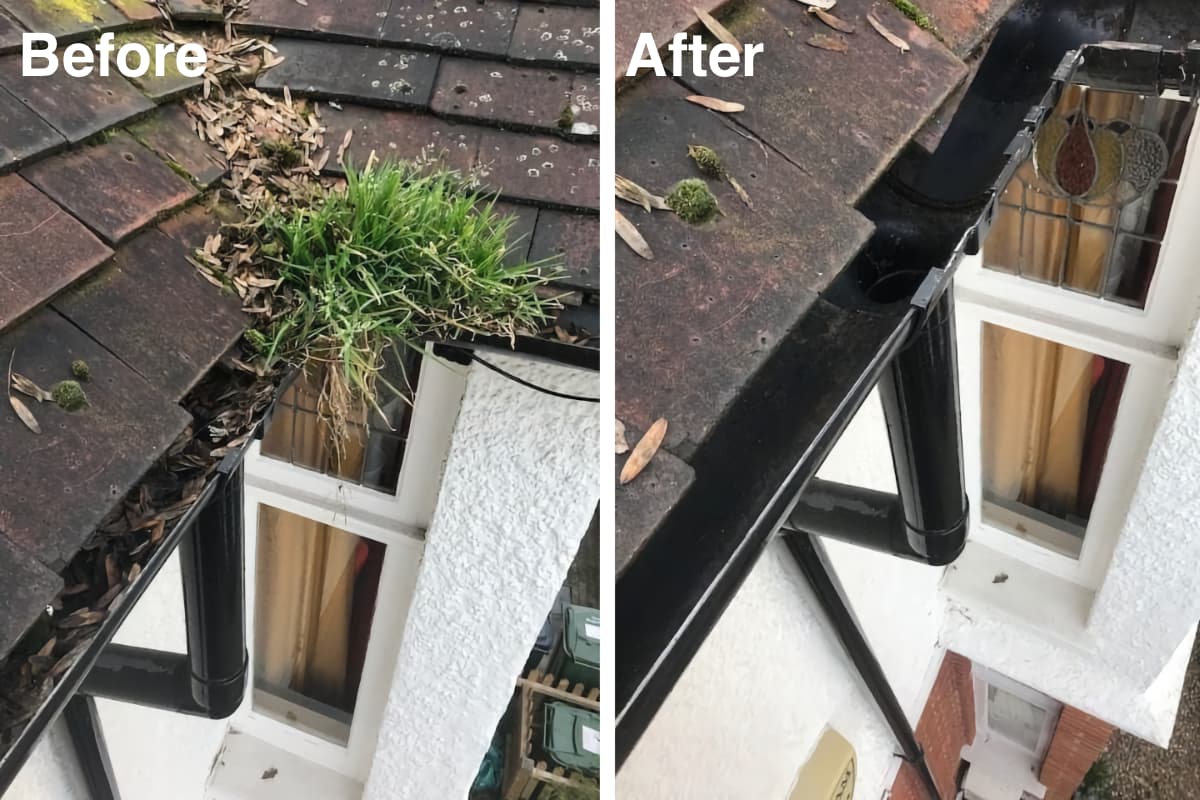 Why should you have your gutters cleaned?
Gutter clearing can be a dangerous task, with having to climb ladders and sometimes even getting on to the roof itself.
Slips and falls are common so it is important to have someone there to hold ladders.
Doing the clearing yourself can lead to damages to the gutter system or even broken windows if you are not careful.
The qualified team at Sam's Gutters will ensure everything is done safely and you and your home are not at risk.
Why Sam's Gutters & Roofs?
We specialise in clearing both residential and commercial gutters. Our highly qualified team can rapidly and safely clean up the leaves, moss, and other debris from your gutters.
With every gutter clearing, we provide a FREE roof inspection to check for any damage or potential risks to your property.
Sam's Gutters and Roofs were established in 2009, we have our own dedicated health and safety officer so we can provide health and safety documentation as required.
✅ Book a Free inspection
✅ Full report with photos of our findings.
✅ Quotation With No Obligation
✅ Residential and commercial gutter and roofing work
✅ Free Quote Provided In Minutes
✅ Fully Guaranteed In Worcester Park & Surrounding Areas
Gutters in Need of Repair or Replacement?
The only way to determine with certainty whether your gutters require repairs or replacement is for someone to inspect them, which is difficult for most people. It is essential to possess experience, a head for heights, training, and the proper equipment.
As all of our personnel are skilled roofers, we can also provide a complimentary roof check with every service. If anything is discovered, such as missing or broken tiles, missing flashing, or leaking mortar, our professionals will inform you and provide you with a free, no-obligation estimate.
If you think you may need a roof repair go here for roof repairs.
What makes us unique?
✅ Integrity
✅ Accountability
✅ Commitment to our customers
✅ Highly skilled team
✅ Quality materials used
✅ Fully Insured
We have company Public Liability Insurance cover and all our technicians are fully Health and Safety Trained with many years of experience in the work that we carry out.
– All our repairs are guaranteed
– Free ROOF INSPECTION
– 10-years guarantee on full replacements (on all fascia, soffit and gutters replaced)
– Free roof and guttering inspection with every booked job
– Free site visit and quotation
A little about the area.
Worcester Park is a town in South West London. It is partially in the Surrey borough of Epsom and Ewell and partially in the London boroughs of Sutton and Kingston. Southwest of Charing Cross is the location.
In assessments for happiness and safety, it always ranks highly, which is a credit to its excellent infrastructure, lovely surroundings, preserved architecture, and low crime. Worcester has contributed significantly to British history for more than 2000 years.