Gutter Cleaning South Hampstead
Gutter Cleaners In South Hampstead
Look no further than our team at Sam's Gutters & Roofs if you need a skilled and trustworthy guttering service. We offer a thorough gutter cleaning service that will leave your downpipes and gutters clean and clear, protecting your home from water damage.
We know how important it is to keep your gutters clear and clean, and our team of skilled and knowledgeable technicians will work quickly and effectively to complete the job to your satisfaction. We employ the most up-to-date tools and methods for cleaning gutters, and our costs are reasonable.
So get in touch with our team right away if you require a gutter cleaning service in South Hampstead. Always happy to assist!
✅ Protect Your Property From Water Damage
✅ Professional Gutter Cleaners
✅ Free Gutter And Roofing Survey
✅ We Check Your Gutters For Signs Of Damage
✅ Competitive Prices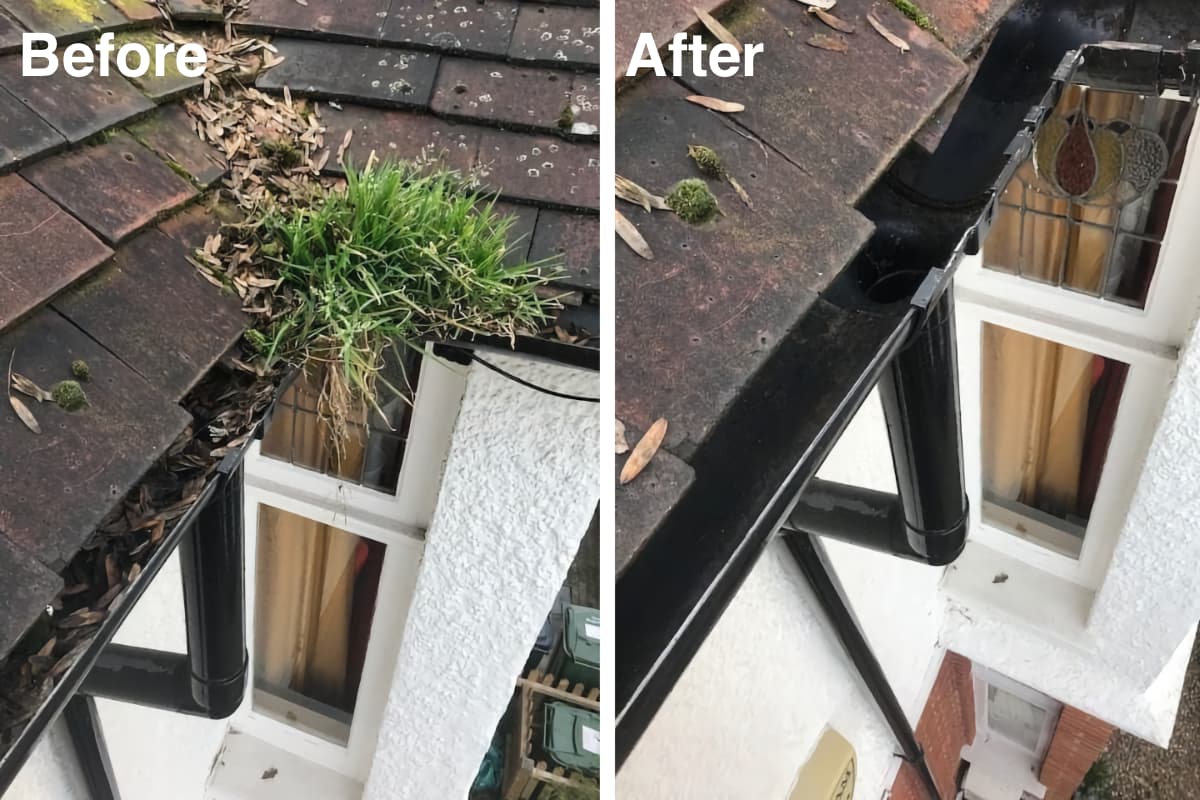 Are Your Gutters Clogged ?
The experts at Sam's Gutters & Roofs can completely clear your gutters quickly and effectively because we have the resources and expertise. Get a free estimate from us right away.
Your home's guttering is crucial for a variety of reasons. It prevents water from entering the house and prevents the foundation of your home from eroding. Additionally, it aids in avoiding flooding in your crawl space or basement. Your gutters may fill up with leaves, dirt, and other debris if they are not regularly cleared out. They may suffer damage as a result and lose their usefulness.
You should consult a professional if you are unsure of how frequently you should have your gutters cleaned. They will be able to evaluate the state of your gutters and provide advice. It is typically best to have them cleaned a minimum of once per year.
Why Sam's Gutters & Roofs?
Gutter clearing,

Repairs and replacements,

Soffits and fascia installations or replacements,

Roof repairs,

Chimney repairs, pointing 

Solar panel cleaning.
With each gutter cleaning in South Hampstead, we reinforce our claim to be the best experts in gutter cleaning and gutter-related repairs in the business.
By hiring qualified roofers who can not only clear gutters but can also repair issues with any roof. Every house is different and an expert is often the best person to assess what is truly needed. As a result, we leave happy customers who recommend our services.
✅ Book a Free inspection
✅ Full report with photos of our findings.
✅ Quotation With No Obligation
✅ Residential gutter and roofing work
✅ Free Quote Provided In Minutes
✅ Fully Guaranteed
Think You Need Your Gutter Repaired Or A Replacement?
The only way to know for sure if your gutters need repairs or replacement is for someone to go up and inspect, which most people find difficult. Experience, a head for heights, training, and the proper tools are all required.
We can also provide a free roof inspection with every work because all of our specialists are professionally trained roofers. If anything is discovered, such as missing or broken tiles, missing flashing, or leaking pointing, our professionals will notify you and provide a free, no-obligation quote for you.
Think you may need a gutter repair? Go here for repairs.
What makes us unique?
✅ Integrity
✅ Accountability
✅ Commitment to our customers
✅ Highly skilled team
✅ Quality materials used
✅ Fully Insured
We have company Public Liability Insurance cover and all our technicians are fully Health and Safety Trained with many years of experience in the work that we carry out.
– All our repairs are guaranteed
– Free ROOF INSPECTION
– 10-years guarantee on full replacements (on all fascia, soffit and gutters replaced)
– Free roof and guttering inspection with every booked job
– Free site visit and quotation
A little about the area.
A pleasant residential neighbourhood can be found in South Hampstead. It is quiet and covered with vegetation. Parts of it, including the region around West End Lane, are particularly well-known for their cafe culture and their village-like atmosphere. This is helped by the fact that the neighbourhood is home to both families and young professionals.